Tag Archive for "face painting"
As we have several kids in our household it is always fun to try new things to do with the kids. One thing that we might consider trying is face painting as kids seem to love it.
Face painting can be a bit hard to do so a face paint DVD would be great for us to learn the how to do the skill.
A website called Videoshelf.com sells a DVD series called "Create Faces" where you can learn how to do face painting. The DVDs are for sale from their site and here is an example of the painted faces you can learn from the DVDs: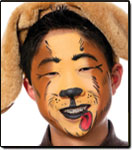 Here is also a video with face painting designs that are suitable for Halloween: